We've been heading out to a few of the patios on our list with Miss Roxanne, and so far, so good! Everyone has been really receptive and friendly, and we've been pleased to see at least two or three dogs on the patios.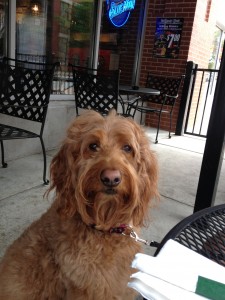 Last Sunday, Mike and I took our brand-spankin'-new bikes for a 15-ish mile ride on the Arkansas River Trail. I suggested that we purchase one of those baby trailers to pull Roxanne in so she can join the fun, but for some reason he thinks pulling a 55 pound dog wouldn't be enjoyable. Whatever!
After our biking adventure, we got Roxanne and hobbled on over to Dugan's Pub for a well-deserved beer and some lunch. We were promptly greeted and let in the side entrance of the patio, and Roxanne got several head scritches from our server.
I typically order the chicken strips – the beer batter is seasoned just right and results in a super crispy crust and the chicken is perfectly tender and juicy; you really should try them. This time, however, I decided to branch out a little and opted for the Anaheim Turkey Sandwich (smoked turkey, Anaheim chile peppers, melted jalapeño jack cheese, sliced avocado, and chipotle mayo on wheat bread), fries, and my absolute favorite beer of the moment, Boulevard Single-Wide I.P.A. Mike was good and ordered the chef salad (what a show off, with his healthy eating habits). Roxanne clearly thought the salad was hers because as soon as it was set down on the table she wanted to snatch a bite of the abundant turkey and ham. She got one french fry instead and seemed content with that.
While we were there, we saw two other dogs with their humans, and everyone was exceedingly well behaved, just chillin' on the patio. Good dogs!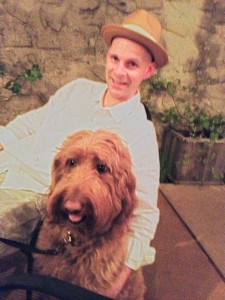 Since we had yet to try it, Tuesday, we decided to give Crush Wine Bar a whirl. We took a quick jaunt over the river to Argenta to take advantage of their $20 Bottle Tuesdays special – any wine priced $40 and under for $20…? SOLD! This is a great little wine bar with a fabulous patio. Surprisingly, the patio wasn't packed, so I'm assuming word hasn't really got out yet about their great prices. We hope to help!
In addition to the super Tuesday deal, they host wine tastings on Mondays – today's is a flight of Charles Krug wines – and Wednesdays feature $5 house wine (2 wines picked off their list), $1 off beer from 4:00-7:00 pm and $2 off all tapas plates, 4:00-close.
Crush doesn't have a full menu, just a solid tapas menu, so it's a great place to nosh before going to the theater or for happy hour after work. We had the selection of hummus and the French bread with roasted tomatoes and smoked mozzarella, both very tasty. That night, we had the only pup on the patio, but with the weather improving so greatly, we expect to see more in the coming weeks.
Our third adventure in patio'ing took place Saturday when we hit up The Faded Rose. We've been going here for years; it's always a solid choice for an excellent Cajun/Creole lunch or dinner. Usually, we've ordered the Crawfish Étouffée or one of their delectable tilapia or redfish dishes, but lately, we're absolutely hooked on their blackened chicken salad. The chicken is blackened to spicy perfection and served over crisp romaine lettuce (restaurants always get points for romaine in my book), with fresh mushrooms, and their zesty creole mustard vinaigrette dressing. Additional points for not drowning the lettuce in dressing, too!
Roxanne was one of three pups on the patio this time. We met Gracie and her mom, and as we we wrapping up our lunch, Coulson and his family showed up. He was a baby goldendoodle and reminded us of Roxanne when she was that wee (awwww!). One of the servers brought water bowls out for all of the dogs, which was a welcome and very nice gesture. Kudos! We also had quite a bit of dog talk with our table neighbors, and it was truly a delightful way to spend the afternoon. Dog people are awesome!
Oh, a pro tip: When you go to The Faded Rose, you owe it to yourself to try the fried artichoke hearts as an app. BUT… don't immediately start slamming them into your piehole the minute they arrive on the table. Trust us on this one. Wait until they cool down a little and enjoy the delightful nuggets without searing the roof of your mouth. It's worth the wait!