Thanks to a bit of outstanding legwork by our blog friend, Fran Hickman, we've confirmed that dogs are NOT prohibited on restaurant patios, as previously reported. After reading our post on Wednesday, Fran contacted the Arkansas Department of Health for more information. According an email she received from Robert Brech, Office of General Counsel at the Arkansas Department of Health, and Teresa Vela, Section Chief of the Food Protection Program at ADH:
…we do not typically prohibit dogs on the patio. So, unless there is something unique in this situation, it would not be prohibited.
Additionally, we heard from several dog-friendly restaurant owners who also called the ADH for clarification and were told the same thing. Capi Peck, co-owner of Trio's Restaurant, contacted the director of the Arkansas Hospitality Association who spoke with an ADH attorney. The attorney confirmed that the health department is not going to "go after" restaurant owners who have patios that allow dogs, which is a very good thing considering the patio at Trio's has been dog friendly for nearly 27 years.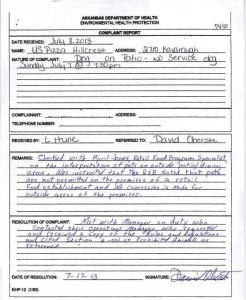 However, there is clearly confusion among department employees when it comes to this rule. We requested a copy of the complaint that was made against U.S. Pizza Company (this is all publicly available information, but we chose to remove the complainant's name and phone number). As you can see, the way the rule is currently written is pretty ambiguous and leaves room for interpretation by inspectors, which is exactly what appears to have happened in this situation.
This does serve as an excellent reminder of some basic rules of the road when you're dining with your dogs, though:
Keep your dog on a leash and under your control at all times
Never allow your dog on restaurant chairs, tables, or other furnishings
Never allow your dog to lick or touch dishes or utensils (EW!)
If possible, bring your own water bowl
If your dog's being a jerk you should leave
And, I'm sure this one goes without saying, but always clean up after your pup
So, bullet dodged. Get out to a patio this weekend, kids!