Friday night we took advantage of the absolutely stellar spring weather and walked our three happy selves over to Revolution Restaurant on the corner of President Clinton Ave. and LaHarpe Blvd. — basically the gateway to the River Market District.
Revolution has super-easy patio access for you and your pup around back (go down LaHarpe and hang a right around the building). The patio is pretty expansive; probably a dozen four-tops and several larger tables with banquettes. It's nice that the owners haven't crammed all of the tables together, which is super for us pet parents.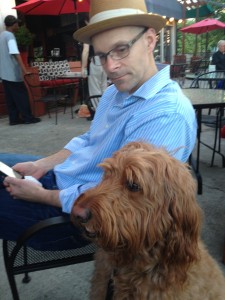 We sat at a table, but a really cool patio feature we'll take advantage of on a future visit are the two cushy and covered (sorta… they're swagged with fabric) seating areas to the left featuring sofas, cocktail tables and overhead lighting. It would be great area for group of friends who want to hang out in a more outdoor lounge-type atmosphere. Since it was just the three of us, we didn't want to take up that space. One day, though… One day!
We hit the patio around seven, and it was surprisingly uncrowded for a Friday evening. Live music doesn't start until later, and I'm pretty sure Revolution and the Rev Room draw more of the late night clientele, so it's absolutely ideal for us dog folks to head over for an early-ish dinner.
We kicked ours off with a couple of beers and the Creamy Crab Dip. Holy crap do you get a lot for your money ($7). The dip is warm, just a tiny bit spicy and made with real crab meat (points for not using "frab") and served with a large basket of salty, crispy tortilla strips. I'm thinking this app would normally be shared among four people, but someone was really busy at work that day and hadn't eaten much, and I love crab dip, so… we utterly destroyed that dish.
Smarter people than us would have stopped there, but come on, dude. Tacos. TACOS! Revolution's menu features 14 different styles of tacos, ranging from traditional (Old School), to Greek-style (Opa!), to crab cake (Big in Baltimore). And, if you don't want tacos, you have the option of getting the ingredients in a salad or in a bowl with rice and beans.
For his entree, Mike chose the Beale St. BBQ (shredded pork, jack cheese, white onion, and smoky slaw) and I went a little more mainstream with the Big Tex (fajita steak, grilled peppers & onions, pico, jack cheese, cilantro, and sour cream). In addition to two large tacos you also have your choice of two generous side dishes. We selected the grilled corn salad and the black beans. As you can see, both the tacos and the sides are enormous. Mike's BBQ tacos were the winner of our choices. He wouldn't let me have a bite (I kid), but he said they were perfectly smoky and had a nice spice, just like you'd expect from a good pulled pork sandwich.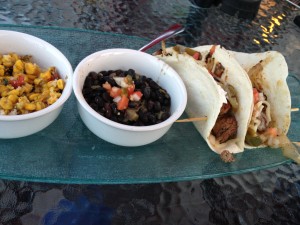 Mine, on the other hand, were a bit more… unusual. The steak was nice and tender and the fixin's were nicely grilled, but rather than the cumin/lime flavor profile of a fajita that I was expecting, the meat had an inexplicable soy/ginger flavor combination. Don't get me wrong, it wasn't unpleasant at all; just different. The corn salad was absolutely fabulous, and we both highly recommend it. The corn kernels had a lovely char to them and the sprinkle of cotija cheese and a little squeeze of lime reminded me of Mexican grilled corn on the cob.
Roxanne thoroughly enjoyed her time with us, and she got lots of attention from some other patrons on the patio. All-in-all, it's a great place to spend outdoor time with your buddies and your pup. Sit. Stay.